Global Infrastructure EPC+F Company
A subsidiary of Ajna Holding AB, Black Winter Projects is a Swedish global infrastructure company
Black Winter Projects is a global infrastructure consulting and development company focused on creating sustainable infrastructure projects across the globe. Undertaking projects through EPC+F model, we offer a holistic solution to sovereign governments, municipal bodies, quasi-government organisations, and private organisations covering all the stages of the project lifecycle – from project conception to planning, design, financing, and execution.
Emphasizing on the United Nations Sustainable Development Goals, we deliver our EPC+F services to the developing nations and help them improve their standard of living and contribute to achieving the UN SDGs.
Our expertise lies in delivering projects specifically structured to suit to the unique needs of both governments and private organisations based on their geographic location, GDP growth, economic conditions, political dispensation, and the laws of land.
Leveraging on a wide international partnership with leading financial institutions, DFIs, ECAs, design firms, construction firms we are a one-stop provider to the infrastructure needs of our clients.
With a highly experienced professional team coming from diverse industries including finance, engineering, design, former government officials who are well versed with the global affairs, policies and regulations, construction engineers, audit and compliance.
As a technology enthusiastic organization, we adopt the latest construction technologies leading to better throughput, safety and quality to generate better ROI to both government and private organizations we work with.
What Drives Us?
A subsidiary of
Ajna Holding AB
and
Serneke International Group
company, we are passionately driven to create world-class projects that not only help humanity but are also are delivered faster, at lower costs and that is environment-friendly.
We are aware of our social duties to help improve the quality of life of communities.
A dynamic, diverse, talented team united by the same vision
Using our expertise, knowledge and technology to create a better world for tomorrow
Forging best-in-class partnerships are the cornerstone of our success
0
Infra management experience
Global Presence. Creating a Sustainable World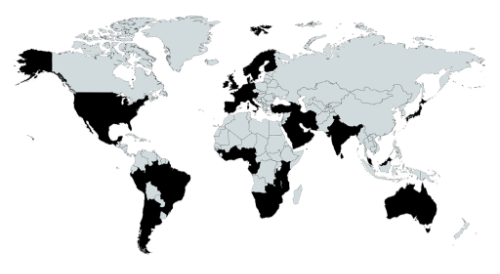 1.Commitment & Passion
We are driven by our desire to help our customers succeed
2.Knowledge & Technology
Adopting the latest and the optimal technologies by the brightest minds in the industry
3.End-to-end Services
We offer a complete spectrum of infrastructure related services
4.We Work Smarter
We apply leading business rules and best practices to help ensure better efficiencies and faster turnaround
Global Infrastructure Company with experienceexpertisecomplementing skillsknowledgeconnections